This week I visited Dortmund to deliver a 2-day Project Excellence workshop to the successful German Microsoft Dynamics 365 partner tegos – the specialist for the waste management and recycling industries.
The tegos management noticed that its markets, their customers and the customers of their customers are changing rapidly these days. So they decided to set up this workshop to help both their internal teams and their customers benefit even more from today's modern technologies.
tegos took the smart decision to not just focus on their project managers. But instead created an audience of her best professionals with a mix of sales, delivery and management roles. After all, in today's super competitive world the joint delivery of project success is of crucial importance.
On the first day I presented the trends in the market, in the Microsoft strategies and in buying behavior. We then discussed the business impact on the tegos customers and on their customers and internal organisations. And we zoomed in on the impact on the tegos employees.
On day 2 we dived deeper in the chances and challenges for sales and operations. Like the need to inspire the customer's C-suite. And how to do that. Why it is crucial to avoid a 'lift & shift' approach when migrating to a new solution. And we talked intensively about the need for customer-centricity.
In that discussion, various interesting topics came along. Such as:
how to get the commitment from the customers' board
what the real impact of project failure is
and the similarities between customisation and peeing in your pants. 😊
Together we collected new insights, learned a series of non-traditional approaches, re-activated some well-known but lost abilities and did some valuable exercises. It was hard work and quite strenuous at times. But luckily we also had some good laughs together.
This is what co-CEO and co-owner Andreas Kullmann said about this workshop:
"With his clear, straightforward and pragmatic way of getting to the heart of things, Guus has once again made us fit for this important transformation process. Away from complex projects with egg-laying lactic acid to business process optimising projects with a high degree of standardisation. His 30+ years of experience shines through again and again. And thus he can competently address the things that also cause some pain in tegos. Because we must transform ourselves as well in order to continue to make our customers successful. These trainings are important to make our company fit for the coming years. And continue to create #SimplyMoreValue for our customers. Thank you very much Guus! This was not your last visit here in the Ruhr area."
I want to thank Ralf Linnemann, Marc Oberberg, Frank Fuchs, Miguel Flamonio and Andreas for having me. And I wish the team success in putting all we've learned into practice.
Finally: who said that German partners have no sense of humor? 😊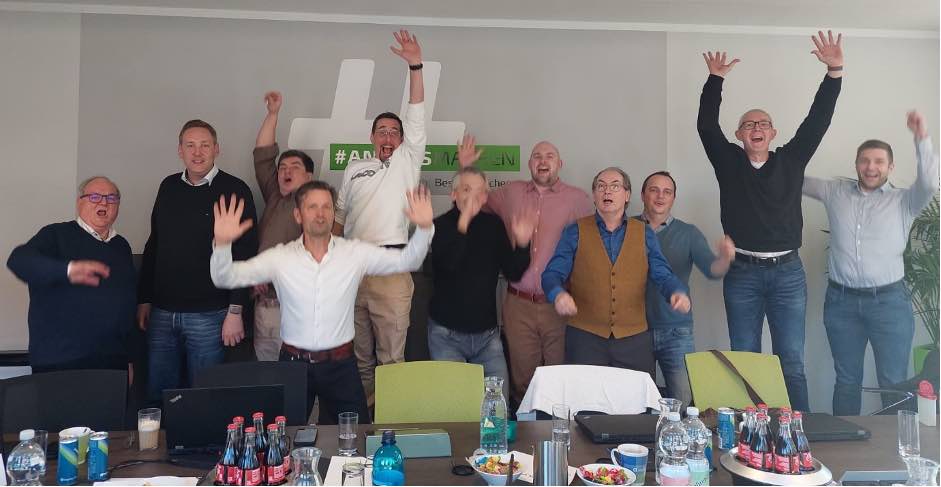 #microsoftdynamics365 #projectsuccess #projectmanagementtraining #d365bc #businesstransformation