Spice up


your events

Guus as a keynote speaker at your next customer event?

Attractive speaker services to make your next event your best ever
Sit down
Shut up
And listen
Let's be honest
Most partner events and annual customer days are pretty boring, right? The agenda often delivers a tsunami of functions and features. Often an attractive theme is missing. The content is delivered based on a 'one size fits all' approach. And the over-all event concept is 'Sit down – Shut up – and Listen'.
So what do you want to achieve with your next event?
Another predictable edition with average satisfaction scores? Or a refreshing, attractive event with active audience engagement? Think about provocative statements with public voting. Followed by a discussion on stage with an expert panel. Or a quick self-assessment for achieving a successful digital transformation project.
In the coming years, most of your existing on-premise customers will make up their minds about the next steps in their IT strategies!

Do they understand the trends in the industry and the moves that Microsoft is making? Will they prepare their own move to the cloud?
If so
Will they follow the Microsoft strategy towards Dynamics 365?
And again,
if so

Will they stay loyal to you or consider switching to another D365 partner?
Why you should engage and inspire
Never before in your company's history it was more important to engage with your customers. To inform them. To challenge them. To inspire them. To win their confidence. And to show them the way to a bright future based on your D365 solutions.

Over the past few years, many Microsoft partners all over Europe have invited me to inspire their customers at their annual customer event. And the good news: all of them are still (very) happy with that decision!
So how can I help you and your team to spice the agenda of your next event?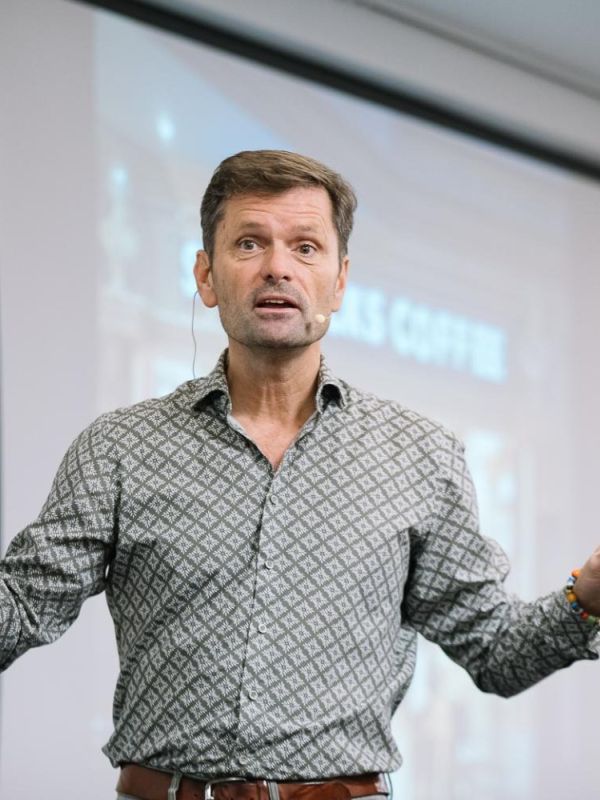 Delivering inspiring presentations
I can deliver inspiring presentations at your event that have a focus on the transformation part of digital transformation. On Microsoft's product strategy for Dynamics 365 and the related business opportunities for your customers. On the need for upgrading and the impact of Organisational Change. Or on another business topic you'd like me to present about.

I can deliver these presentations both inhouse and in an online format. And in three different languages, being English, German and Dutch.
Other possible roles
I can also help you making your event a great one in additional roles, like:
Why Guus Krabbenborg?
For long years, my presentations are (more than) well received by both partners and end-users in many events in multiple countries and cultures.
These presentations are consequently perceived as energetic, creative, inspiring and yes, also a bit provocative. But fortunately - always with a wink …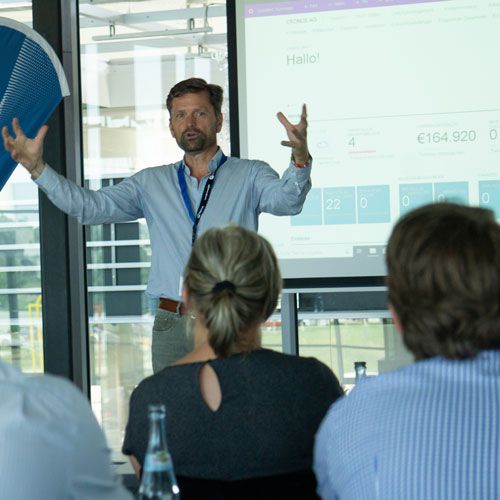 What do other partners say about me?
This is what your colleague partners say about my contribution to their recent events:
Practical and provocative
"Thank you for processing the digital transformation topic for our customers in a bite-sized manner, Guus. Our joint webinar 'The top 3 success factors for digital transformation - and no, not what you think' was very well received by our customers and interested parties.
While using practical examples and small provocations, we were able to show the participants what is important for a successful transformation. That includes of course the IT component. But there are some other important 'homework' tasks as well. We've enjoyed working together with you again!"
Gifted and engaging speaker
"Guus, I want to share that you're one of the most gifted and engaging speakers I have seen in many years of doing this.
I want to thank you for your energy and enjoyable way of presenting the topic, especially how you focus on specific criteria to drive action."
Particularly inspiring speaker
"With Guus, we welcomed a particularly inspiring speaker for the participants at our Business Day. He knows how to electrify the participants and also to address unpleasant points in an interesting, partly provocative but also entertaining way - not least because of his Dutch charm.
With his talk on digital change he perfectly complemented our technical topics and made our participants aware of the implications of changes and opportunities in all fields of digital transformation.
Thank you Guus for your great talks - always worth listening!"
Some help to start!
I have created a valuable whitepaper with 15 practical tips for your next successful event. I've collected these tips as being part of a several dozens of partner events all over Europe in the past years. These insights will help you preparing for your best event ever!
Check this valuable content now and improve your next event!
The next step
If you like my approach, I'd suggest setting up a call to discuss your business goals, the content, the logistics and all the other relevant details.

Just send me an email and we are on our way!