What is the
real challenge?
All companies worldwide must transform their businesses to stay relevant in today's digital world. The current crisis only reinforces this urgency! In this process of digital transformation, the 'digital' part is the relatively easy one - simply since technology is for sale. The 'transformation' part, however, is the real challenge! After all, there is no article number for transformation in the Microsoft pricelist, right?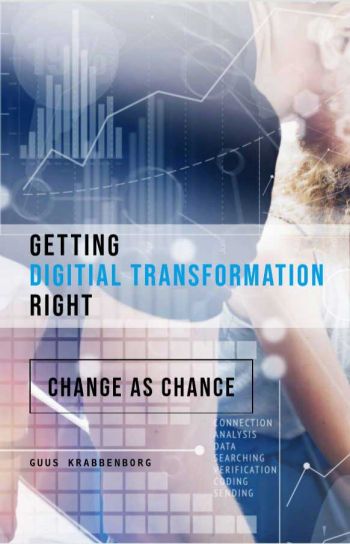 Transformation challenge
This unique book offers great early-buying cycle content, focused on the most important part of every customer organisation: their management!
The idea
I wrote this book to help the management of your customers with this transformation challenge. Without any help or external inspiration, the vast majority of all organisations will only modernize their IT. And "forget" to also update their business model, the internal mindsets and their legacy business processes.
Best case, the outcome of that process is 'old wine in new bottles'.
Partner role
I wrote this book with you as a Microsoft D365 partner in my mind. Your company can buy the book as a semi-finished product, that you can complete with your own preface and your own unique title. With a cover in your own house style, adapting the content with specific examples to make it more relevant for your own vertical markets.
Or even create specific versions per vertical market.
Written by Guus
While creating your own unique version of this book, you still benefit from the credibility that I have built over time in the international ERP and CRM arena with my presentations, my training courses and my other books.

In this book, I play the 'bad cop' role who speaks to your customer's management in a politely assertive way while giving them valuable advice.
Your one-time investment
Your one-time investment for acquiring the full publication rights of this book is only € 2000.
The investment in extra language editions is € 500 per additional language.
To be clear - that is the price for your own use.
So not for possible resellers.

All prices are exclusive of VAT.
Is that expensive?
Of course I understand that you can only spend your marketing budget once! As I do understand the importance of positioning your company as a trusted advisor who can support organisations in their digital transformation process.
For a minute, consider the effect of publishing this unique and attractive e-book, that can help your customers avoid expensive failures in their digital transformation projects.
Think about the additional leads this can deliver. About the impact on your company's reputation. About the potential access to the senior management and HR departments of your customers. And the impact on the win chances in your new business sales cycles.
And then relate these benefits to the size of this investment.

The first partners have already seen a significant increase in leads.
I'm sure you can do the math!
How to best use the book?
Various formats
in printed format
as an e-book
as a book to read
as a workbook - the individual chapters can be used as (basis of) thought leadership blogs that you can publish yourself
Use (parts of the) content to update your website text
Various situations
Positioning your company as leading and forward thinking in digital transformation
Create a lead generator by offering the ebook on your website As the basis for a valuable management presentation (great door-opener!)
As the basis for a (paid) management workshop (supports your own thought leadership!)
As a reward for allowing a sales visit ("we'll bring you something very valuable!")
What do partners say about my book?
Must have for a deeper dialog
Guus' latest book about digital transformation is a 'must have' for everyone working with prospects and customers that have questions about this transformation journey!

We have translated the book into the Norwegian language and recently started a digital campaign based on the book. In a short time we already collected several new leads. The book is helping us to get a deeper dialog with both potential new and existing customers!
Absolutely helpful for digitisation projects
With provocatively asked (counter-)questions, Guus has often broken through our own, established thinking patterns in the near past. So we didn't have to think long when he introduced us to his latest book. And this time again: interesting to read, well summarized and absolutely helpful for digitisation projects.

Our customers and prospects like the book. The content makes them smile and at the same time under­stand their own responsibilities. Most importantly, the book helps them to make the right strategic choices in their business transformation projects!
Valuable tool
The Transformation e-Book is a valuable tool for anyone considering a software implementation project.
Guus Krabbenborg brilliantly guides the reader through all aspects that are relevant to the success of a digital transformation project. He emphasizes the importance of the joint role of the implementing partner and the client.
The e-Book is relevant for customers and potential new customers, but also for myPartner's internal team.
Join the best partners!
Some of the leading D365 partners from all over the world have already created their own version of this book. They have started educating the management teams of their customers and creating leads for new projects.
Choose your language
The book is available today in English, German, Dutch, Norwegian, Danish and Portuguese.
Additional languages on request.
Have a Sneak Preview
For your orientation you can see the index and read my preface plus one complete chapter.
It's a chapter on a pretty relevant transformation dilemma, called 'Modernise your software or your whole organisation?'
Index
What is digital transformation anyway?
Why is digital transformation important for you?
What if you don't succeed?
Modernise your software or your whole organisation?
The number one fail factor: old wine in new bottles!
What are your goals?
Manage the emotions, create a 'red-print'
Communication, Communication and Communication
Are you open for experiments?
The most effective changes start bottom-up
Don't forget the skills challenge
As a manager, you are their role model. Ready for that?
Where your responsibility lies
---
Appendix 1 – Success conditions for digital transformation
Appendix 2 – Estimation of success chances in your transformation
Get a head start
Be among the first Microsoft partners to order and get a head start on the competition!
This email address is being protected from spambots. You need JavaScript enabled to view it.