Is it possible to achieve project successes with Dynamics 365 without really involving your customers' C-level? And how effective is it to help modernizing business processes, the company culture and the team's mindset without proper support of their top management?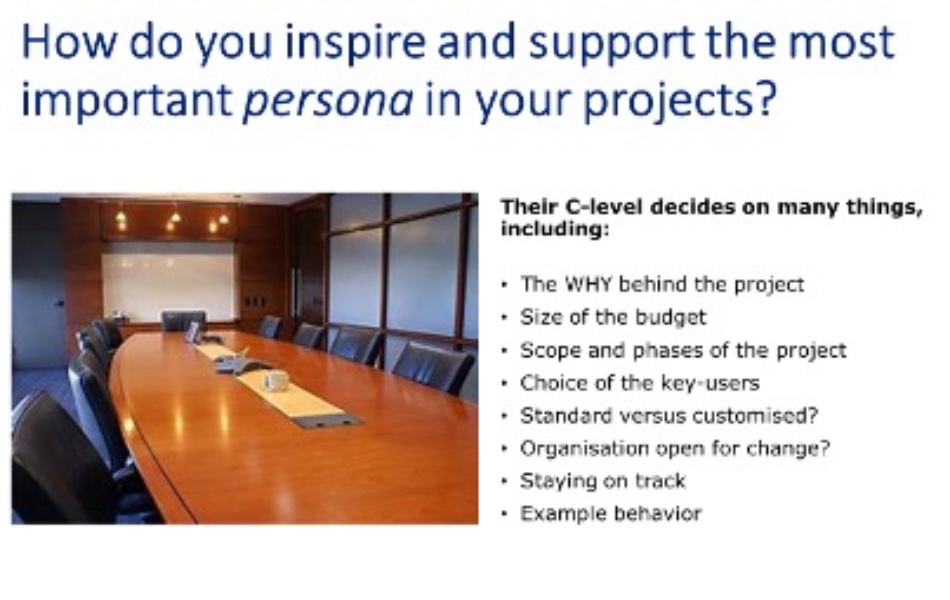 C-level engagement is a crucial condition for success. After all, these persona's have the power to decide on many important preconditions. Unfortunately, your customer's management is mostly inexperienced in leading and supporting these impactful change processes. And if they get involved at all, it's because of problems. And then it's too late to avoid misery…
Traditionally, this partner channel talks to the IT department. But even in today's transformational and hectic world, the majority of the Dynamics 365 partners still ignores the most important persona who can strongly influence their success chance. And that includes the bigger partner organizations!
At the Directions 4 Partners event in Milano, I will deliver a presentation titled 'Do you know that one missing link to achieving project success?'
In this session you learn how to inspire and educate the management of your current and future customers in a structured and attractive way. You will be inspired to make C-level education a standard and integral part of your methodology.
If achieving more project success is important to you, this is a session you definitely don't want to miss!
Check here for the date, time, room and other details:
https://bit.ly/3BVu1bd


See you there?
#microsoft #microsoftpartner #microsoftdynamics365 #d365bc #directionsemea